His half-years subs to 31-12-1867 were £4/10/0... Last payment made 1870.
(estimated cost in 2004 money A$674)
Walter was educated by the Royal Masonic Institute for Boys at their original school "Wood Green" in North London, on the death of his father he entered the Institute aged 11, was shown there in the 1881 Census as a 14 year old pupil, in 1929 he had the unique distinction of being the first (and only) old boy of the Institute to be elected to the Institutes Board of Management, he served on the Board until 1941 resigning at that time due to ill health.
Brief history of the Royal Masonic Instution for Boys:-Courtesy RMTGB webpage
From 1798 there were two Masonic charities for clothing and educating sons of indigent Freemasons. The charities operated separately for nearly 60 years, each providing for the education of sons by sending them to the nearest school to which they resided. "Wood Green" in North London was the first boys' school, where 25 boys started in 1857 following an amalgamation of the two charities in 1852. A new school was built in Bushey in Hertfordshire in 1903 with an adjoining Junior School added in 1929. By 1939 there were 800 boys aged 8 to 18 at Bushey. The privilege of the title 'Royal' was granted in 1832, and the name 'The Royal Masonic Institution for Boys' was adopted. It was incorporated by Royal Charter in 1926.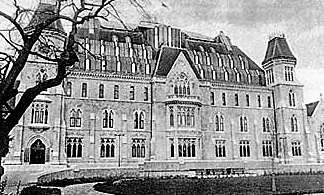 Photograph of "Wood Green" in North London Walter Meacock's masonic affiliations were :-

1901 - 1945 Albert Edward. Prince of Wales Lodge No. 1429 Newport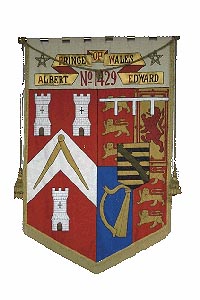 Initiated 10-10-1901 Passed 16-12-1901 Raised 13-2-1902
Joined age 35. Died May 1945. Occupation : Accountant
JW 1909 ; SW 1910; WM 1911
1910 - 1945 Old Masonians Lodge No. 2700 London
Joined 14-10-1910.Died 1945. Occupation: Chartered Accountant
1911 - 1945 Charles Lyne Lodge No. 2964 Newport
Joined 6-7-1911 from Lodge No. 1429. Chartered Accountant
JW 1925 ; WM 1936 ;
1920 - 1945 Jasper Tudor Lodge No. 4074 Newport
He was a petitioner of this Lodge, the warrant was granted on
17th Feb. 1920. He had joined from Lodge No. 1429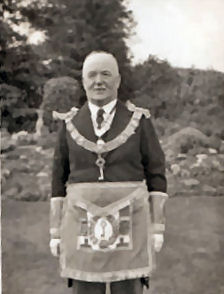 Other Office held : 1936 Grand Treasurer -United Grand Lodge England.
He was also a member of a Royal Arch Chapter but details are unknown. An original member of the Rotary Club of Newport Monmouthshire, served office of President and was a popular and active Chairman of District 15 and a personal friend of the founder of Rotary, Paul Harris of Chicago, who visited the Meacock home 'Kingsmore'.
Brother of Walter Stanley Alfred Meacock
1901 - 1958 Silvrian Lodge No. 471 Newport. JW 1911;SW 1912;WM 1913 & '41.
Charles Lyne Lodge No. 2964 Newport WM 1928
Jasper Tudor Lodge No. 4074 Newport
Other Offices held :for many years Provincial Grand Secretary (Monmouth) and in 1930 P.A.G.D.C.; 1937 Dep.Prov.G.M.,Monmouth; 1938 P.J.G.Deacon ; 1954 - Order of Service to Masonry.
Sons of Walter
Robert Walter Meacock 1921 - 1962 Jasper Tudor Lodge No 4074 Newport (WM 1938) & Charles Lyne Lodge No. 2964 Newport.
Donald Meacock (dates not yet identified) Corinthian Lodge No. 4917 Swansea, P.P.G. Std. Bearer
Stanley Preece Meacock St. Michael's Lodge No. 1630 Coventry (WM 1937)...P.P.G.W (Warwickshire)...Member Old Tauntonian Lodge No. 5735
G. Eric Meacock (c.1928) The Lodge Norseman No.20 W.A.C. Australia
Wilfred Vernon Meacock 1936 - 1954 Isca Lodge No. 683 Newport (WM 1949) & Charles Lyne Lodge No. 2964 Newport & St Woolos Chapter No. 683 Newport.
Grandsons of Walter
Eric Meacock Eric Meacock Southern Cross Lodge No.44 W.A.C. (WM 1965); The Lodge of Service No. 135 W.A.C. D of Ceremonies 1969 to 1973 then WM 1974, Charity Stwd 1976, Dof C 1985 & 1986; Grand Lodge of Western Australia Ceremonial Team 1976 then District Grand Inspector of Workings 1977-1980; conferred rank P.G.I.W. 1980
Nannup (Day) Lodge No. 124 W.A.C. Busselton, Director of Ceremonies 2007 to 2010, SW 2011, WM 2012 & 2013, Secty 2014-todate.
Associate Member Sussex Lodge 41 2013-14 Ass.DofC, 2014- Treasurer
Associate Member Naturaliste Lodge 294... 2013-14 AssDofC.
Joined Geographe Royal Arch Chapter No.38 2012...Installed as 3rd Principal & WMM 2014 also joined Nelson RAC No.22 as an Associate.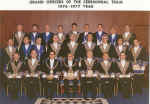 Click to enlarge
Grand Officers of the Ceremonial Team 1976-1977 year.
&nbsp Eric Meacock back row 4th from the left.
Walter Meacock Narembeen Lodge No.129 W.A.C.25-9-62/27-6-89

Web Page Index

This work is licensed under a Creative Commons Attribution-NonCommercial 2.1 Australia License.
copyright © 2003