Ships The Kerr's Sailed on from Scotland to Australia (as amended 21 June 2016).

from 'Sail : The romance of the Clipper Ships' author J Spurling

re-produced, in part, courtesy of the STATE LIBRARY OF VICTORIA

and from Volume 3 of "Sails" by Spurling and Lubbock courtesy Australian National Maritime Museum GPO Box 5131 Sydney NSW..

Towards the end of the "sailing ship" era there was no better-known company than the Glasgow "Shire" line, which began trading to

Queensland in the very early days of the emigration boom to Australia. The line was founded by Thomas Law and his ships, with the exception of one or two which were bought and not renamed, were called after the Scottish shires. He began by running small ships to Brisbane, Maryborough and Rockhampton, with government emigrants. The flagship of his fleet for many years was the Morayshire launched in 1875 followed by the Stirlingshire 1877 and Selkirkshire 1878 from the yard of Messrs. Birrell, Stenhouse. The Selkirkshire's measurements were length, 228 feet 4 inches; breadth, 35 feet 8 inches; depth, 20 feet 4 inches. She registered 1,271 tons gross, and 1,192 net. Like all Birrell's ships she was beautifully finished, with any amount of brass and teakwood on deck, and polished bird's-eye maple and mahogany below. She was specially built to carry emigrants, her 'tween-decks being pierced for ports, with a donkey-engine and condenser in her midshiphouse. She was a big ship, in those days, to be barque rigged. Her fore and main lower masts and topmasts were all in one, she had double topgallant sails on the main, but single at the fore, and on her mizen she lowered her spanker gaff when furling the sail, following Blackwall and Down East fashion. The mizen mast, by the way, came down through the surgeon's cabin and hospital; this compartment was afterwards turned into a pantry, and apprentices found the mast a most handy thing to dodge behind, when caught by the steward stealing pies.

Captain Anderson was her first commander, 1878 to 1884.
However in 1882 for the Selkirkshire's voyage from Glasgow to Rockhampton, her master was Captain Reid (as mentioned in the log book of Dr Thorntons wife in Part Two) The following information received from Maris Bruzgulis June 2016...she quotes:-"The Brisbane Courier of Thursday, 2 November 1882, page 4: SHIPPING ARRIVALS....IN KEPPEL BAY. November 1 - SELKIRKSHIRE, barque 1192 tons Captain Reid, from London via Glasgow with immigrants and a general cargo. Walter Reid and Co, agents."
The Selkirkshire was one of the most shapely and prettiest barques ever launched, and she possessed an astonishing turn of speed, her best 24 hour run being 315 miles, she is reported to have frequently sailed in excess of 16 knots. In October-November 1897 her best sailing record of 22 days between Yokohama and Portland Oregon was 3 days faster than the steamer record for similar journey held by the Crown of England. The Selkirkshire, smart as a tea clipper when on a wind, could go 13 knots with her yards hard on the backstays. In 1898 the Selkirkshire travelled from Glasgow to Fremantle Western Australia in 80 days, maintaining her high average right up to the last.The West Australian "Inward Report of Officers and Crew on board" Selkirkshire Fremantle September 11th 1898 show Master H Brabender (the second of the three British commanders of the ship), 1st Mate James Polson, 2nd & 3rd mates, 1 Carpenter, 2 cooks, 1 Sails, 8 AB's, 2 OS, 3 Apprentices and a lone female, Ann Murry, Stewardess, all engaged at Glasgow. The only time the Selkirkshire was in serious trouble was in 1894 bound out to Sydney Australia from New York USA she went over on her beam ends and so much water got below that, out of 2,000 cases of kerosene, no less than 1,114 were irretrievably damaged. The shippers sued and the jury awarded 150 pounds of their 285 pound claim. On arrival home in 1905 she was sold to the Norwegians, and renamed Aventa. The little beauty was abandoned and lost at sea in October 1905.
"Waroonga" British India Steam Navigation Co.
Courtesy of Queensland Maritime Museum South Brisbane Qld. And extract from "North Star to Southern Cross" by John M Maber courtesy of
Australian National Maritime Museum GPO Box 5131 Sydney NSW 2001.
The "Waroonga" an Iron screw steamer of 2,513 tons gross was built in 1882/83 for B.I.S.N. by A & J Inglis, Glasgow. Length 315 feet 8 inches (96.19 Metres), Breadth 38 feet 2 inches (11.64 Metres), Depth 25 feet 1 inch(7.65 Metres). In its early years, Waroonga crossed one large yard on the foremast, but could not be truly described as a rigged vessel.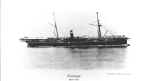 "Waroonga" commenced service London via Suez to Batavia and Brisbane on 26th March 1883. In 1888 the vessel was purchased by the Australasian United Steam Navigation Co. and placed on the Melbourne – Cooktown route, frequently alternating with voyages between London and Australia, in connection with the Queensland Mail Service. In 1893 "Waroonga" commenced operations on the Sydney-Fremantle route, in which the ship continued until 1899 when it reverted to B.I.S.N. and recommenced on the London-Australia run. In 1913 the ship was sold to Kishimoto Shokai Goshi Kaisha and renamed Bansei Maru and was eventually broken up in Japan in 1926.

This work is licensed under a Creative Commons Attribution-NonCommercial 2.1 Australia License.
copyright © 2003