---
Background is the Kerr Tartan

When 'Shotts to Yeppoon and beyond' was published the following photographs were not available or have been taken since. (Click on thumbnail photos to see full size)
1st Photo: Blairmains Farm Scotland (May 2000.Visited & photographed by Del Walker.)
The farm is thought to be the birthplace of William Kerr (1801) and was the birthplace George Kerr 1830(page 24)and is now a Bed & Breakfast establishment. Del found it by chance when driving the wrong way down a one way street. The farm building at left of picture is the original farm house. The stables were in that
lower portion to the right in the photo, now converted to guest rooms.
The glassed in annex has been only recently built on. The house sits next to Junction 5 of the M8 Motorway. It is ideally situated with Edinburgh, Glasgow and surrounding areas all within a 30 minute drive." Phone/ Fax 01501 751278 to Mrs Heather Stephens. Heather@blairmains.freeserve.co.uk

2nd Photo: Del Walker & Nan(Agnes) Kerr at the old Kerr headstone in Kirk O'Shotts cemetery SC (May 2000). Nan was the daughter of Andrew Kerr (page14) who taught guitar and lived in Glasgow. She was awarded an OBE in 1993 for service to the community.(Nan taught guitar and mandolin to Prisoners at the Shotts jail for over 20 years).
Sadly Nan died in Glasgow c.July 2003.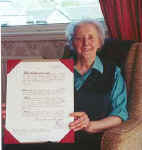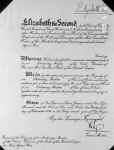 An issue of the Shotts Family History magazine carried a story about Andrew Kerr and his daughters Margaret (Peg) and Nan during the 1950's (A tribute to the Kerrs of Hillhouseridge Farm)
click the following link to read this tribute.
Muriel Maud Millicent (Leta) Weisse (nee Kerr) Child 15 ....page 138 of 'Shotts to Yeppoon and beyond'. Click on photos to see enlargement
1.Joan Beatrice Weisse, Muriel Maud Millicent (Leta) Weisse (nee Kerr), Alan Graham Weisse, & Oscar Clarence Weisse (Leta's husband)
2. Trevor & Learne's wedding in Sydney on 7 Nov 1998. L to R: Barry Weisse, Callum (on Knee ), Sharon (nee Vale) holding Mitchell, Learne (nee Bury), Trevor Weisse, Lorna Joy (nee Liddell), Alan Graham Weisse, Leslie (nee Hume), Keith Weisse. (Missing Keith's children Andrew & Melissa ).

On April 30th 2000 descendants for Alison Kerr(Child 8) and Jack Thomas ...page 109 of 'Shotts to Yeppoon and beyond', held a family re-union at Ascot Hall in Victoria. (Click on photos)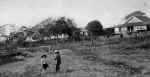 Click on photo for enlargement.
Meikleville Hill Rockhampton Qld c.1920. Only three houses built there. This photo shows the Kellow sisters standing beside drive to front gate of their home, house on right is Harders with William & Nellie Kerrs home in the distance. Ocean and sky in background.

Click to return to Kerr Family Page


This work is licensed under a Creative Commons Attribution-NonCommercial 2.1 Australia License.
copyright © 2003