01/01/2009

Kerr Family Photos Identities/Places unknown
Click on thumbnails to see full size.
Anyone who can identify or provide any information about any of the photographs on this page
Please advise Eric Meacock

Click to email.
Boulder early 1900's West Aussie Sydney NSW
Nannie Kerr c1917 SCT Aussies Picnic
Bush Wedding? Qld Couple? Fremantle ? Sydney
Original Photos held by Lorna Spackman Qld
Brisbane Agnes Kerr ? Queensland? Jessie Kerr Qld Rockhampton Qld
Original Photos held by Eric Meacock WA.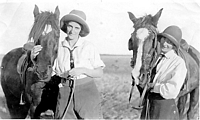 Gladys Olive & unknown friend