Background is Kerr Clan Tartan
---
Click on photo thumbnails to enlarge

Kerr Badge {Moto: "SERO SED SERIO"= "Late but in Earnest"}


William Kerr b.? d. Shotts 23/10/1810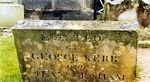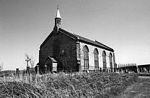 Believed to be the Grave of William Kerr in Kirk O'Shotts graveyard
Descendants so far identified of William Kerr 1. :- George Kerr (abt 1770-1838) 2. :- Jean Kerr (abt 1771) 3. :- Margaret Kerr (abt 1776)

---

George Kerr (1770-1838) Married Jean Graham abt 1795...children George 1796, Agnes 1799-1872, William 1801-1884, John 1803, Marion 1805, James 1807-1866, David 1810-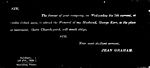 Click to enlarge Funeral invitation

Family lived Starryshaw Farm Shotts
---

2nd Generation George Kerr :- George 1796 married Jane Martin 6 June 1819
3rd Generation : Jane 1822, Janet 1825, Agnes 1827, George Graham 1830.

---

2nd Generation Geroge Kerr :-William 1801-1884 married Christina Miller 8 April 1827 Blairmains Shotts Lanark SCT.
3rd Generation: Marion 1828, George 1830-1913, Click for Kerr Index, David 1832-1889, Jane (Jean) 1833, William 1836, Mary 1839, James 1842-1911, Christina Millar 1844.
4th Generation:George (1830-`1913) married Janet Dick 22 June 1860 (9 Children) Married Margaret Wilson 23 Nov. 1874 (8 Children)Moved to Queensland Aust.
Married Florence E Spanner (6 Nov. 1890 (10 Children) &nbsap;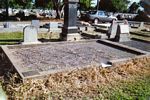 4th Generation James (1842-1911)married Agnes Caldwell 1-12-1882..(6 Children) Lived at Starryshaws Farm. Their son George married Margaret McMartin and were the last Kerr's to live on the farm, they had no children.
---

2nd Generation George Kerr :- James 1807-1866 married Margaret Paterson 20 May 1832 Shotts Lanark SCT.
Moved with Paterson family to Canada...

James Kerr Grave
3rd Generation : George 1833-1865, Jean 1834-1885, Janet 1835-1868, Margaret 1844-1920, William 1852-1925.

Kerr Family Grave Quebec
In 1843 there was no nation called CANADA, just two colonies – Upper Canada, (now the province of Ontario, Canada) and Lower Canada, (now the province of Quebec, Canada). Canada came into being with Confederation on 1 July 1867. The KERR's and the PATERSON's and others came out to occupy a land grant made to Andrew PATERSON who had served the crown in the military. They settled at a place they named Hardwood Hill and at least one house is still there that was built by PATERSONs. It is described in the census as "block" and built of granite blocks. Hardwood Hill is eight miles from the town of Windsor, Quebec, Canada . The PATERSON's were masons before they left Scotland and some of them continued the trade and one became a cutter of tombstones and statuary.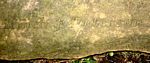 shows the name of KINCH & PATERSON from the lower portion of a very old marker. There is a very old (and shabby now) Cemetery at Hardwood Hill. Grave stones are loose, falling over and broken, KINCH & PATERSON created most of the markers in the entire area. The KERR marker was done by them and is in the protestant section of the Cemetery at Windsor. The cemetery is right along the St Francis River. The area where they lived is north of the border with the USA and south of the St Lawrence River. The area is still known as the Eastern Townships – Eastern to an area in Upper Canada known as the Western Townships. It was a very British enclave in the French province of Quebec and was and is quite extensive.
---

2nd Generation George Kerr :- David 1810 married Jane Russell 18 May 1834 Shotts Lanark SCT
3rd Generation : George 1835-1912, Marion 1837, Jean (Jane) Graham 1838, David 1843 Family moved to New Zealand Click for Family Tree
GEORGE KERR(1830-1913) FAMILY HISTORY 26/07/2007

Click to email Eric


Click here to return to WebPage index

6/08/2007 .


Web Page Index Site Ring




Ring Owner Eric Meacock

Get Your Free Web Ring
by Bravenet.com





Please visit our sponsor

This work is licensed under a Creative Commons Attribution-NonCommercial 2.1 Australia License.